Weddings are lovely occasions.  The wedding day is undoubtedly one of the top 3 days in the life of most individuals. It is therefore understandable that people spend a lot of money to make this day as glorious as possible. In this piece, we are taking a look at some of the best wedding dresses used by celebrity brides in the past.
These are some of the best celebrity wedding gown designs from over the years.  Lots of replicas have been designed around them and second hand wedding dresses from some of these designers have continued to sell in their thousands on Gumtree, eBay and other online sites.
Chelsea Clinton's Wedding Gown
Image- http://fotocabina.azurewebsites.net/wp-content/uploads/2011/08/VW3.jpg
This sophisticated wedding dress came to the limelight back in 2010 when Chelsea Clinton wore it on her wedding day. She got married to Marc Mezvinsky on the day and her wedding gown made jaws drop and made headlines.  The Vera Wang designed gown is known for its embellished belt and laser-cut chiffon skirt. The gown looked great 4 years ago. It still looks great today!
Jackie Kennedy's wedding dress
Image- http://www.jessicaquadra.com/wp-content/uploads/2012/03/vintage-wedding-dresses-Jackie-Kennedy-jewelry.jpg
Her marriage took her into one of the biggest political families at the time so it isn't much of a surprise that she enlisted the help of Ann Lowe to design a gown fit for the occasion.  The bodice and gown of this wedding dress was designed with fifty yards of silk taffeta, and combined with her grandmother's pared-down veil, she was able to create a wedding gown that has continued to be a reference point to this day.
Kate Middleton's wedding dress
Image- http://wedding-pictures-01.onewed.com/18260/kate-middleton-wedding-dress-lace-long-sleeves-ivory-ballgown-bridal-gowns-2011__full.jpg
This dress was the cynosure of all eyes when the now Duchess of Cambridge married Prince William, and for good reason too. It is a marvelous piece that shot the designer Sarah Burton to the limelight.  Fashion watchers all around the world speculated for months on the possible wedding gown design Kate would go for on her big day and everyone was pleasantly surprised when she stepped out in this simple but elegant design.
Ivanka Trump
Image-http://www.styleandthebride.co.uk/wp-content/uploads/2013/12/6a00e551ae05e388340120a68adf2a970c-800wi.jpg
Vera Wang designed this amazing masterpiece for Ivanka Trump. The ever charming business woman wanted an updated version of the Grace Kelly wedding gown (left in the picture) that would meet her religious theme. Vera delivered as always.  The wedding gown is a covered classic lace dress, but it is still very romantic.
Kate Moss' wedding gown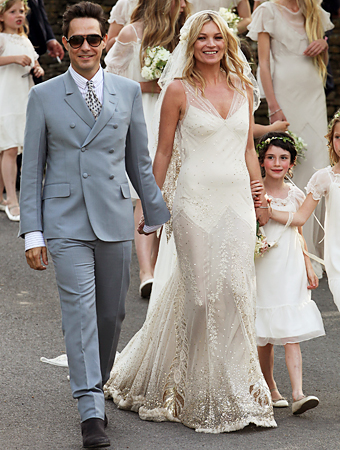 Image- http://img2.timeinc.net/instyle/images/2011/wrn/070111-katemoss-340.jpg
John Galliano designed this vintage inspired wedding gown but Kate Moss surprised everyone by wearing it. The gown was designed to combine sexiness with loveliness and yes it did. Her wedding to Jamie Hince remains one of the most talked about celebrity weddings when the topic comes up.
Katie Holmes wedding gown
 Image- http://dotaroot.org/wedding-dresses/katie-holmes-wedding-dress.html
They are no longer together these days but their wedding back in 2006 was beautiful.  Katie's off-the-shoulder gown with a straight and trim body was designed by Valentino. It was designed to make her look angelic and yes she did look it on the day!