DAHLINGS –
If you find yourself in Manhattan, you simply must hie yourself to midtown to the International Center for Photography's Museum for
"In High Fashion: Edward Steichen
The Conde' Nast Years 1923-1937".
Below is the catalogue for the show. (All images by Edward Steichen, courtesy of the Conde' Nast archives)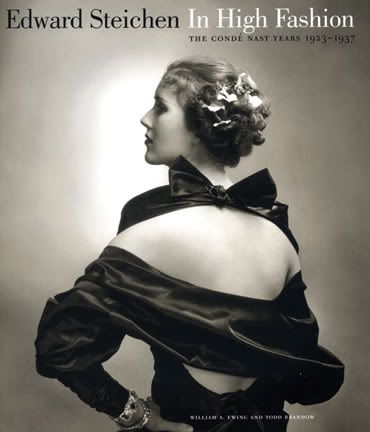 (And no, I don't know why that satin thing is bulging to one side.) It is a wondrous chronicle of this brilliant photographer's work, originally organized by the Musée de l'Elysée, Lausanne, and the Foundation for the Exhibition of Photography, Minneapolis, in conjunction with the International Center of Photography. The exhibition opened here in January and will run through May 3rd. It is part of the International Center of Photography's 2009 Year of Fashion.
It features over 150 examples of the finest of his fashion and celebrity portraiture. Steichen accepted the position of chief photographer for Vogue and Vanity Fair, both Conde' Nast publications, in 1923. One does not have to be as worldly and well-educated as yours truly to appreciate what beautiful pictures these are. Although it helps. Steichen's artistic development can be traced as he moved from romantic pictorialism in the 1920s to the crisp lines of Modernism in the 1930s. For instance, this is an iconic portrait of silent star Gloria Swanson, taken in 1924.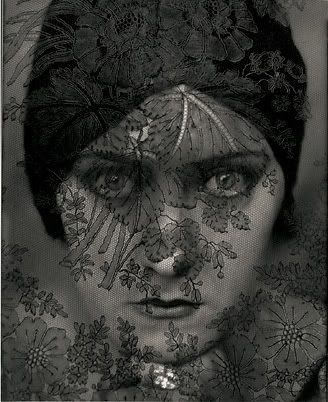 Contrast that photo with this one of young Joan Crawford, taken in the early 1930s.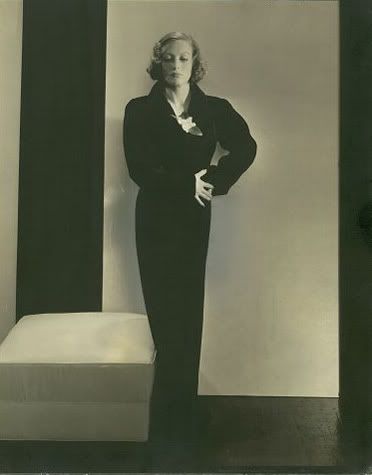 And here is an atypical picture of a very young Katherine Hepburn from that same period.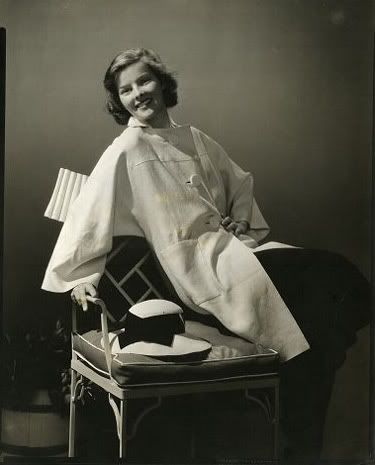 Note the rather odd composition of the white hat on the chair and what seems to be a lamp in the background.
Already famous, he only added to his fame with his spectacular work. This photo is one of my very favorites, with the Manhattan skyline in the background and the dresses--ah, the dresses!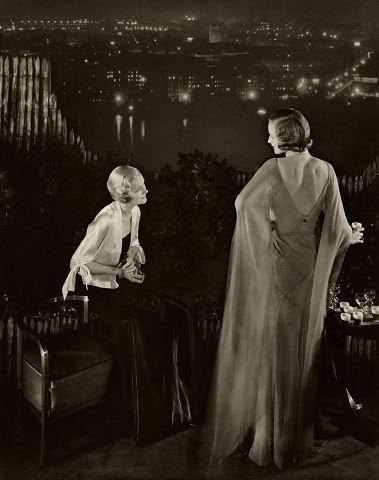 The clothes are by the top designers of the time: Lanvin, Chanel, Agnes'. Besides fashion to swoon over, there are portraits of great writers and politicians of the day. There is also a room entirely devoted to color photography, as well as a fascinating silent film of Steichen at work. One could spend hours there, as I did.

The exhibitions on the upper floor, "Weird Beauty" in particular, do not live up to the sheer greatness that is Steichen, but then, what possibly could?
You can take a look at this link:
http://www.icp.org/site/c.dnJGKJNsFqG/b.4783341/

And again, if you are in Manhattan and have any feelings about fashion and fashion history, you owe it to yourself to wallow in all of this beauty!

Ciao,
Elisa & Bucky the Wonderdog