In this cold winter, if you want to have a warm and confident hair color, blonde hair color will be one of your best choices. There are many customers' concerns about whether blonde hair and dark skin will match. There is no doubt that Blonde Hair can have a good match with dark skin. Blonde hair comes in many color variants, some of which are very suitable for dark skin.
What is blonde hair?
Blonde hair means that the hair color is golden. There are many variations of this golden hair color, due to the difference of color depth and shade, for example, Ash-blonde; Golden blonde; Honey blonde; Sandy blonde; Strawberry blonde.
How to get blonde hair?
1. Dye your hair blonde color
You can dye your hair into blonde hair with blonde hair semi-permanent hair dye. You need to be careful not to use permanent dye as much as possible, which will hurt your hair.
2. Wear blonde human hair wigs
You can choose to wear a blonde color wig, which is a very quick way to get blonde hair look. You'd better choose human hair blonde wigs, which will be more durable, and your hair will look more natural and real, and it will match your skin better. If you choose synthetic hair, your hair will show unnatural luster, and it won't match your dark skin better.
Blonde hair types suitable for dark skin
1. Platinum blonde hair
Platinum blonde hair looks beautiful on dark skin, and this color contrast is natural and eye-catching.
2. Golden blonde hair
Golden blonde hair is a perfect mixture of golden and brown, and this color is very suitable for women with dark skin.
3. Dark roots blonde hair
The root of the hair is black and the other parts are golden. This combination can be well matched with dark skin. The contrast and fusion of these three colors make your appearance very fashionable and beautiful, and make you full of charm.
4. Highlight blonde hair
Blonde hair's highlight form can be highlighted with brown or other colors, and then your hair color is more layered and beautiful.
5. Ombre blonde hair
You can choose the gradual blonde hair. Your hair can transition from black to gold, or from brown to gold. You can choose many styles of color transition. This kind of hair is more gorgeous and has more colors.
6.Sandy blonde hair
Sandy blonde is darker in color, which is very suitable for women with dark skin. It will look very natural and won't conflict with your deep skin.
7. Caramel blonde hair
It looks like a light brown, which is at the end of the spectrum of dark blonde hair. You can get bright light brown, which is the reason why caramel blonde hair is popular.
8. 613 honey blonde hair
Its color caramel blonde is lighter, but brighter and warmer, like the color of sunshine.
9. Strawberry blonde hair
Strawberry is the lightest color of red hair, similar to gold. This color is very fashionable, unique and attractive, and suitable for women with deep skin.
Popular styles of blonde wigs on dark skin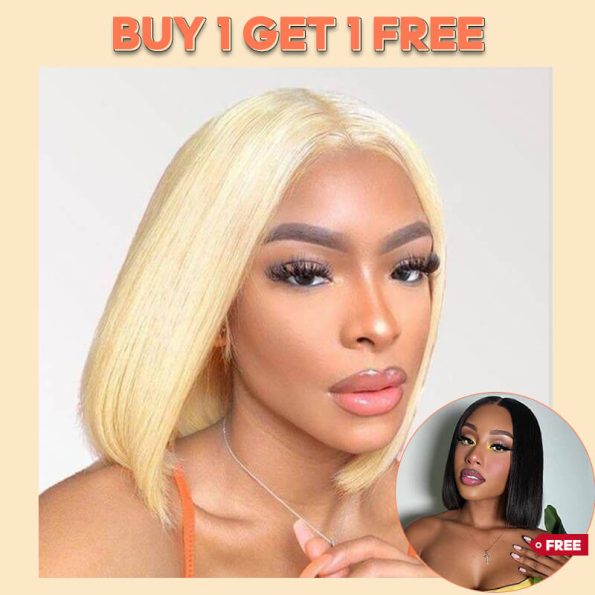 This is straight bob wig with 613 honey blonde hair color. You can get them in 12~14inch wit hair density 180%. And it is a lace front wig that has 13×4 lace area, on which you can do many hairstyles. The lace is H D lace for you to make the most natural hairline.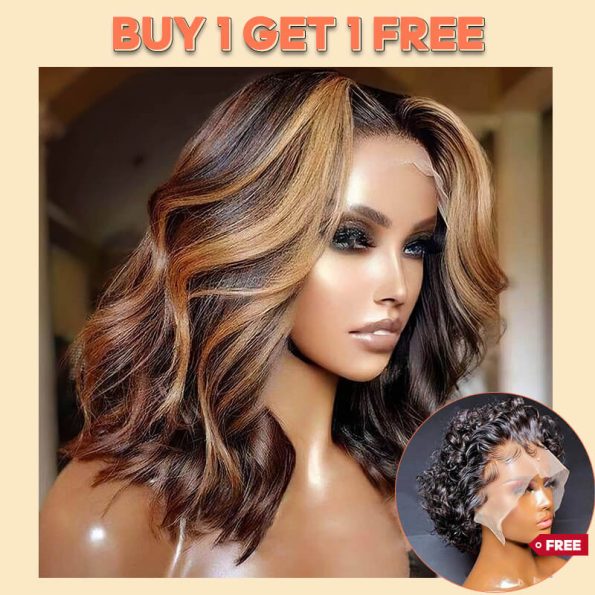 This color is highlighted honey blonde. It is mixed brown with blonde. And it is medium length wig with the length 14~16inch. The hair density is 180% which is enough to give you natural and full hair look. If you buy one wig, you can get a free wig "13×1 Pixie Curly Wig 8 inch".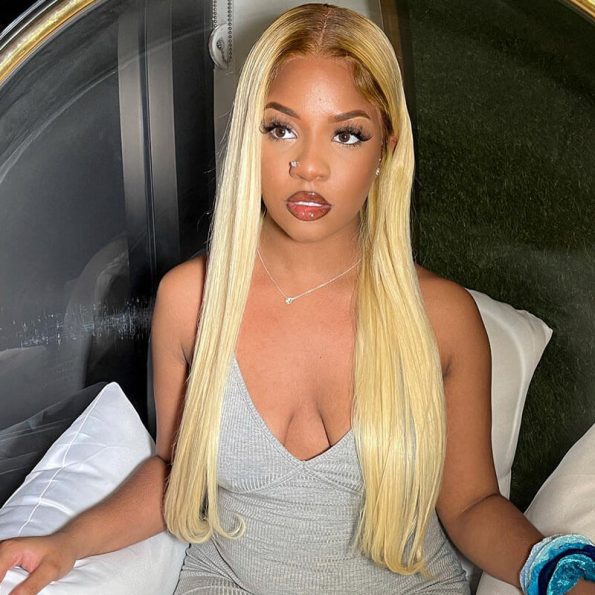 This wig has 4/613 blonde hair color. The hair roots are brown. This is unique hair color style that you can get a special and attractive hair look. The hairstyles for choices are straight wigs or body wave wigs. You can get the wigs from 12inch to 28inch. The density is 180%.
How to maintain your blonde hair wigs?
When you use hot tools to style your blonde hair wigs, you should first apply heat protection liquid to your hair.
You should avoid wearing blonde hair wigs to swim in swimming pools or sea water. Chlorine will dry your hair and discolor your blonde hair.
You should reduce the friction between your hair and your pillow when you sleep. You can wear a silk nightcap to wrap your wig, or choose a silk pillow.
You should comb your hair with a wide-toothed comb. Be careful not to use too much force when removing tangles. When you encounter stubborn tangles, you can use essential oil to help remove them.
When you wash your hair, you should use harmless high-quality hair care products, preferably sulfate-free shampoo and conditioner.
Final thoughts
Our hair shop has many different colors, hairstyles, lengths of human hair wigs for sales with big discounts. You can get them in 10A quality and in affordable prices. You can get the wigs you desire in our hair shop. Welcome to try our hair wigs.