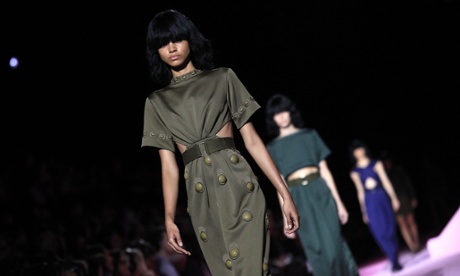 (Image:celebrity style dresses)
In Marc Jacobs' world, reality is overrated. His spring/summer 2015 show on Thursday evening closed New York fashion week by sending the assembled audience to, as he put it after the show, "their happy place".
This effect was achieved through a dreamlike atmosphere and a soundtrack broadcast through Beats by Dre headphones that came with every seat. The set was surreal. Inside New York's Park Avenue Armoury was a huge bright pink house, surrounded by purple gravel, that served as a catwalk.
The great and the good including Rachel Feinstein and Martha Stewart sat on steps made from Germolene-coloured shag-pile carpet. Through the headphones, a robotic voice described the action in a script inspired by John Smith's 1976 short film The Girl Chewed Gum and written by Jacobs and his regular music collaborator, Steve Mackey.
Echoing a trend at fashion week – where Opening Ceremony staged a play and Ralph Lauren Polo projected a film on to water in Central Park – the overall experience was closer to performance art than a showcase of clothes to wear next season.
Clothes were there, of course – the kind that do translate to real life when this particular fantasy is over. They had that Jacobs trick of making something new, cool and desirable from the familiar.
Inspired by Brownies uniforms and army fatigues worn by counterculture figures in the 60s, models wore simple shirt dresses in khaki and officers' uniforms with added 90s-style oversized slouch. The pockets of combat trousers were transferred to the front of floral jumpsuits and the use of beadwork, heavy duchesse satin and crystal buttons gave a luxe edge to this particular model army. Oversized 3D polka dots reoccurred on everything from backpacks to buttons on pockets and the collection's colour contrast of slubby browns and creams against the pink backdrop was an Instagram-friendly touch.
Backstage, Jacobs explained that the show was designed to put "everyone where they wanted to be. Whether it's a show or a piece of theatre, it's always about the clothes in the store. I just like to provide that second story." The use of the army fatigues was about his team challenging themselves to do something new with a hackneyed favourite. "It's a palette that we all know," he said, "but we made it high fashion. It's the cartoon version of a fashion army."
Jacobs is clearly enjoying the creative freedom that comes with the latest chapter in his career. Since leaving Louis Vuitton almost a year ago, he has been able to concentrate on his own line and find time to rejuvenate the younger Marc by Marc Jacobs, which accounts for 70% of the company's business.
Now overseen by the Brit duo Luella Bartley and Katie Hillier, the show on Tuesday this week was delivered on a set fit for a rave. It was another hit for the Jacobs brand, which happily mixes creativity and commercial success. Majority-owned by the French conglomerate LVMH, going public is likely to feature in the next chapter of this fashion story.
Calvin Klein's collection was shown earlier in the day – to a front row that included Sarah Jessica Parker, Rachel Zoe and Daisy Lowe. Harking back to the brand's minimalist heritage, the creative director, Francisco Costa, opened with a simple navy blue column sleeveless dress over a longer skirt. It was striking in its simplicity and matched the spare, spooky soundtrack.
The pared-back aesthetic continued with a tightly edited colour palette of navy, cream, ivory and black. The clinical, neat lines of these clothes worked particularly well when contrasted against different textures including knits and leather.Read more here:SheinDress mermaid prom dresses