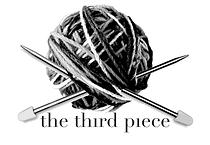 A Few Goody Gumdrops and The Third Piece are giving away a luscious woolen lavender snood. By now you've read our interview with The Third Piece and seen our "snoody" giveaway. The hand knit snood makes it easier to embrace the winter months.
Just in case you need refreshing...The Third Piece is a chunky hand knit accessories line perfect for chilly days or sub zero degrees. Many of us are experiencing the frosty chill in the air right now. These "essential" and stylish winter pieces are easily wearable in frigid temperatures...just throw them on without any fuss. Their knit pieces will warm you right up. We know they'll become part of your daily style! Already their signature Turban can be seen on fashionistas everywhere keeping their ears ever-so toasty!
The yummy color lavender snood is the perfect winter giveaway. This gorgeous and oh-so feminine color will add a smile to your already blue lips! Click this link and leave your entry on the giveaway page. Sounds easy! That's because it is!