'Is there any of us who doesn't want to look classy? No.'
Whether it's a wedding, date night, meeting, party or even a sleepover at a best friend's place, All of us desire and have a right to look stunning. How? Well, it all depends how you set your wardrobe. From flowing maxi dresses to mini-skirt, there are thousands of trends available but it's extremely important for you to be aware that what is suitable for you and looks attractive on you? This article is to provide you an understanding about Shopping in Plus size. It would help you to master that how can you look trendy and carry out different styles, even if you have a plump body.
1)Wear black:
The best and most advantageous way to look slim is dress yourself in black from head to toe. Black makes your shape and bulges less apparent and helps you look classy. Any other dark color like navy, blood-red or green would also work but black is the best of all. Be it a long maxi, mini dress, jeans or a casual T-shirt, black would never fail to make you look hot and slim.
2) Go for simple prints:
Instead of wearing, bold prints and horizontal lines; go for simple prints and vertical stripes. Bold prints make your body look stretched and larger, while simple solid prints can make you look thinner. This contours your body and hides your details. Only a nice flowery print or vertical stripped pants can add so much elegance and class in your style with much skinnier look.
3) Accessorize yourself with a belt:

Accessories catch eyes. To give yourself a slimmer look, wear a matching belt with your dress from the accessory section. This would not only give you a trendy look but also makes you look skinnier. Choosing wide and matching or contrast colored belt over your sweater, jacket, shirt, gown or a casual mini dress would keep your waist in shape with complementing your whole look.
4) Long cardigans and jackets:
The oldest and all-time in trend is wearing long uppers to cover your unflattering and plump areas. This will cause the eye to look up and down instead of side by side and give you a clean-limbed look. You can try wearing long open cardigan or jacket paired with a v neck shirt above pants. 
5) Wear V-neck shirts:
Wear v neck if you want to hide your excess fat and appear skinny. V-neck gives the illusion of longer, thinner and upper body. It creates a visual balance for your hips and thighs and draws eye up and down. Build your wardrobe with V-neck shirts, tank tops, sweaters and jackets. 
6) Flared pants:
Instead of going for skin tight jeans, which can make your top look more heavy, go for flared or boot cut pants of dark colors like black or navy blue. Not only makes you look slim but also goes with the trend. You can easily accessorize them with high-heel contrast pumps. Whether an important presentation or a party night, these pants go with every occasion.
7) Fit your clothes:
Wearing too fitted or over baggy clothes are enough to make you appear fat. Always, ALWAYS buy clothes or fabric that fit your body and have perfect measuring according to your size. 
8) Denim jeans in wardrobe: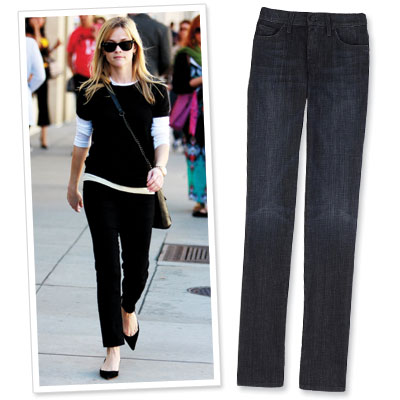 The most flattering is to add dark denim jeans in your wardrobe. Dark colors always look attractive and have the power to rule. They give a slimming effect to your trouble area and add interest in your wardrobe. You can go for colors like deep plum or chocolate brown.