A typical Maharashtrian bride has to be one of the simplest dressed brides of India. Yet, her understated elegance speaks a thousand words. If you're a Marathi bride-to-be completing her wedding checklist or an inspired bride who wants the look, jewellery is an important decision in marathi matrimony.
We have all dug through our mother's or grandmother's jewellery box when we were kids enamored at the beauty of the pieces. A wedding is your day to shine, so we've decided to bring you a list of traditional Marathi jewellery that will not only turn heads at your wedding but also become valuable heirlooms.
Mundavalya-
This piece is a unisex ornament. Both bride and groom wear strands of pearls or flowers across their forehead and down both sides to the chin before they enter the mandap. It holds significance because it is worn to symbolize their being ready for marriage.
Nath-
The traditional Marathi nath is not a simple ring but a pearl and stone studded gold paisley shaped piece that rests on her nose. This sets Marathi brides apart; the typical design has a white stone in the center. Most common of naths used are the Karwari or Brahmani nath.
Kudya-
Kudya is the set of ethnic pearl earrings that are used in Marathi matrimony. They may be a simple pearl studded flower shape or may have diamonds or other precious stones in the center to set you apart.
In case your inner fashionista beckons, check out vintage Marathi gold ear cuffs.
Thushi-
This is a piece that has gained importance after being adapted from the Peshwa dynasty. It is a Kolhapuri choker style piece with tightly worked gold beads and is one of the most popular items.
Kolhapuri Saaj/Saaz-
The saaj is a timeless neckpiece with the symbols for the Sun, the Moon, flower etc set with a ruby in the middle. It has special meaning and is worn by women in many parts of Maharashtra along with the Mangalsutra.
Tanmani-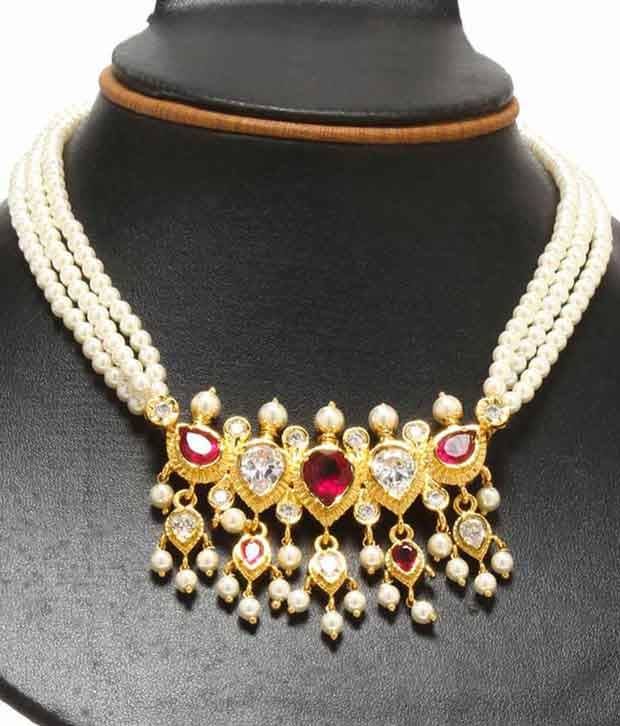 Again, this is an essential part of Marathi matrimony with strands of pearls attached to a stone studded pendant. A classic marriage of ethnic with modern glamor, this is a piece to be passed down.
Tode/Patlya-
Traditional heavy set gold bangles given by the groom's side paired with handcrafted green glass bangles worn in odd numbers on each hand.
Vaaki-
A gold armlet or bajuband embellished with stones designed to catch attention against your paithani saree.
Jodvi-
This is again given to the bride by her mother-in-law and symbolizes her entry into a new life and a new household. Silver toe rings that convey a woman's marital status are a must for the Marathi wedding.
Mangalsutra-
The traditional Marathi mangalsutra has strands of black and gold beads attached to two vatis. Or you could ask your fiancé's family to go for the lighter single vati look. Do I even need to point out how necessary this is?
If you're feeling even more traditional, choose a beautiful ambada pin for your hair.