To DIY a 4×4 closure wig, here are some materials you require to prepare for a volume look and high quality.
First, prepare the needle and curve to sew the wigs. They need to match enough to sew the bundles.
Second, cap, as the basic material of one wig, select the cap that fits your head and is bouncy. They should be breathable if you are making a wig for summer.
Third, scissors, select the scissor in sharper, not too big or small.
Fourth, human hair bundles. For a 4×4 closure wig, three bundles or five bundles are enough depending on the volume looks you desired. The human hair bundles come with different textures, the straight wig may require more bundles for a voluminous look, and the curly wigs require less than a straight wig.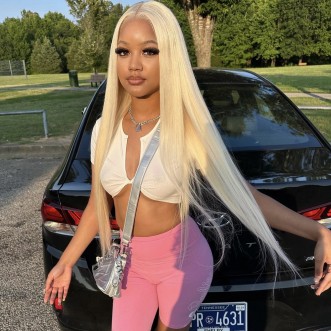 Fifth, wig stand. To sew the wigs, it is essential to secure the wigs.
Sixth, t-pins. Apply with the wig stand and cap to help sew the bundles onto the cap.
Seventh, styling tools. After you have sewn the wigs, styling the wigs to your desired look. Such as the heating tools or headband to add uniqueness to your wigs.
Creating the 4×4 closure wig for your summer wearing is a process that is accomplishment and funny, they can ensure the quality of wigs as the materials are selected by yourself.  And you can color your closure wigs for a unique look.