Weddings are a multi-billion-dollar industry that is only growing. People feel like this is the one time when they need to splurge and go all in to celebrate this once-in-a-lifetime event. And the most important part: the bridal gown. Women all over the world are prepared to spend a lot of time and money to find the perfect wedding dress to walk down the aisle in, and the industry is taking the hint. Couture fashion is spreading and there are new styles of gowns coming out all the time, so let's see what are the hits for brides this year: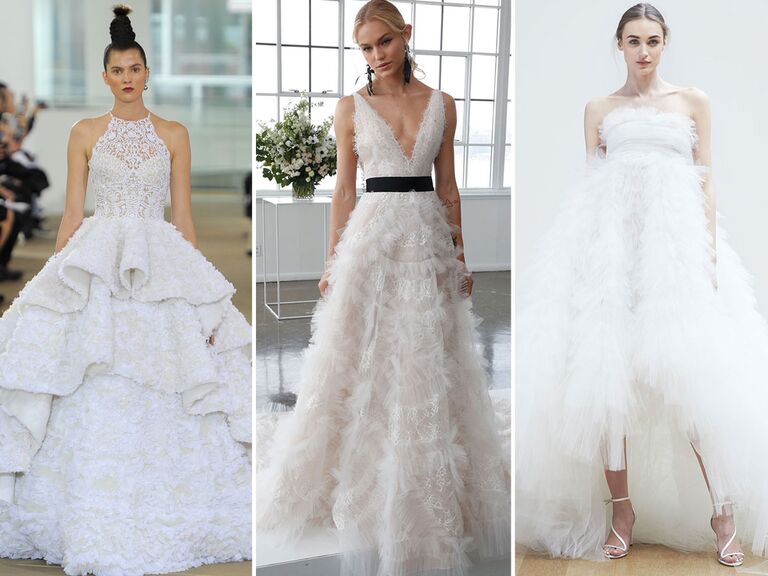 Lower budget
Let's address the big one first: wedding dresses are no longer reserved only for bridal salons and high prices. Fast fashion shops are now jumping onto the bandwagon and putting brides-to-be in beautiful gowns for a fraction of the price of a traditional dress. There aren't nearly as many dresses to choose from, but a lot of brides are willing to sacrifice their choices for the lower price. Of course, the price itself isn't the end of it. These dresses need tailoring to make sure they fit perfectly, but even with that, the brides are getting a bargain. Of course, there's always a chance that the dress won't be what you imagined it to be, so make sure you're getting it from a shop that has free returns.
Colored dresses
White is out. Sure, it's been out basically forever in various cultures, but if we're talking about the western culture, white has been the norm. Well, not anymore. We're seeing more and more brides looking for color in their wedding outfits, with even black bridal gowns surging in popularity. If you want to add some subtle color into your outfit, you can look at Oleg Cassini Store wedding dresses that are ivory, rose gold or silver. Alternatively, you can look for lightly colored appliques and beads for the dress to add some color while staying in a colored dress. You can also try to add color through your accessories, like shoes, veils, tiaras and other jewelry. Remember that your bouquet will probably be colored, so match the flowers to your dress.
Sleeves
When we think about a traditional wedding dress, it's usually either a strapless sweetheart, or a deep V with thick straps. However, there are different types of sleeves coming into the picture, and no – they're not just cap sleeves. The first ones worth noting are so-called arm warmers. They are long sleeves that hang from the upper arm, but completely skip the shoulder. They are often not connected to the dress, but they can be. Another trend, which can be combined with this one, are the bell sleeves. Bell sleeves have been a staple of high fashion from the middle ages, so it's obvious why they're coming back, and the lightness they allow the dress is what captivates the brides.
Bows
Definitely the most versatile trend that was shown on the runway at the beginning of 2018 were bows. From thin, straight bows on the waist, to huge bows that cover the entire back and hold the straps together, bows are the defining detail on a lot of dresses. You can make them a part of your dress in almost every part of the gown, so find something you like and join the trend.
Every bride deserves to feel beautiful on her wedding day, and all the trends in the world should serve as an inspiration to help you find your perfect dress. You don't have to follow the trends if you feel like it's not what you will feel best in, but don't stray away from trying out something new – you never know what you might fall in love with it.