The Emerging Trends 2012 during Boston Fashion Week

Saturday, September 29, 2012 from 7:00 PM to 11:00 PM (ET)

Boston, MA
Venue: Boston Center for the Arts (Cyclorama)
Time:  7 PM :  Doors Open | 8 PM - 11 PM : Show | 539 Tremont St., Boston, MA
_____________________________________________________________________________________
"A gathering of jewelry, shoe, men's, and women's collections from diverse cultural backgrounds not only makes this event interesting, but also lands Boston on the map for fashion in the United States."
- Joonbug.com, Read Full Article
  "Emerging Trends premiered in 2008 as part of the Boston Fashion Week and has been providing a unique networking opportunity for new designers ever since. Every year it's growing and attracting more and more talent, press and fashion celebrities."
-Examiner.com, Read Full Article

"The designs were unique and artistic, leaving onlookers waiting for the next installation of the Emerging Trends runway show."
 - Anokhi Magazine, Read Full Article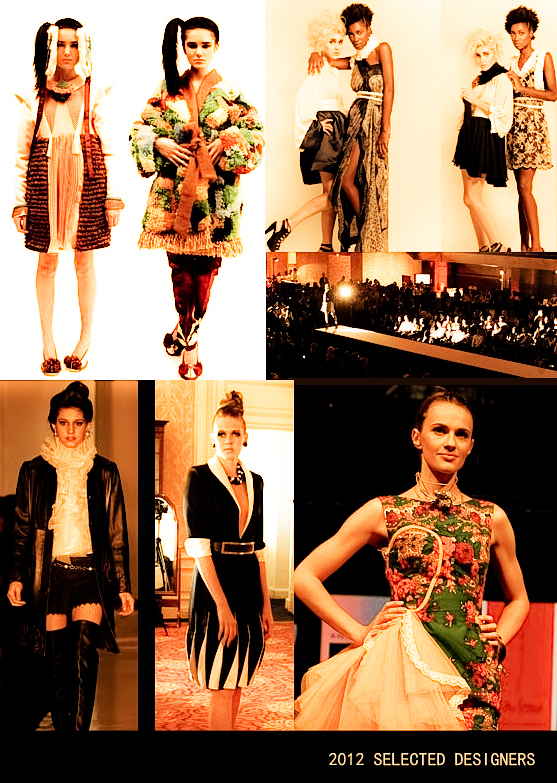 _____________________________________________________________________________________

The 5th Annual Runway and Vendor Show in Boston:
The 5th annual Emerging Trends Show - Boston will be held on September 29th, 2012. This event is a dedicated effort to aid the Boston fashion community in developing its reputation known for innovation and creativity. 
The 2008-2011 Emerging Trends events demonstrated great success for participating designers and sponsors including former Project Runway contestants Jerry Tam, Maya Luz and Keith Lissner (The Fashion Show, Bravo TV). This event is an incredible opportunity for emerging designers from all over the world to showcase their designs to a variety of sponsors, buyers, press and media, as well as gain extensive exposure on the east coast. This year we have also launched this event in Europe and had an overwhelming success from our Paris Show.
The SYNERGY Events aims to provide a vehicle for promising designers to reveal their collections to an upscale audience. Attendees consist of community members interested in developing Boston Fashion Week on a larger scale, as seen in other cities such as New York and Los Angeles.
Are you ready to see our designers show off their talent on the 80 feet runway?
Sponsored by Timeless NYE
A partial list of this year's designers include:
Yeashin Kim  (UK)

Bitru Fariel (Poland)

Lauren Beauchesne (USA)

Kimberley Crawford (Canada)

Truly Alvarenga  (USA)

Annie Jean-Baptiste (USA)

Christopher Nevin (Canada)

Lucio Vanni (China)

NuVU Studio (USA)
 Plus more than 15 vendors selling everything from handbags to exclusive jewelry.
Show Schedule:
8 PM - Featured Shows
9 PM - Individual Shows
10 PM - Group Shows
CHARITY:
- A portion of the VIP tickets will benefit - One Home Many Hopes. One Home Many Hopes finds, rescues, houses, loves and educates orphaned and abandoned girls in Mtwapa, Kenya and equips them to be the future agents of change in their community. For more info, please visit:www.onehomemanyhopes.org.
OFFICIAL WEBSITE:
http://www.theEmergingTrends.com
Past Event Photos:
http://www.facebook.com/album.php?aid=126154&id=30247931096

Join our Social Media Pages:
Facebook: http://www.facebook.com/SYNERGYBoston
Twitter: http://www.twitter.com/SYNERGYBoston
Past Press:
- BFW showcases emerging talent on September 24th - FashionSin.com
- Blast Magazine: Emerging Trends 2011: Boston's must-see fashion event.
- Lucire partners with SYNERGY Events for Emerging Trends show
- UK's Midlands Fashion Designer Awards in Collaboration with The Emerging Trends Show
(In Addiion)
- Emerging Trends from Lasell Students 
- DirtyWater TV on NESN: Fashion Week Recap
- Boston Fashion Week Kicks Off the Week with The Emerging Trends Fashion Show
- BLTV- Luxury Accessories at Boston Fashion Week 
- Papercut Magazine: Emerging Designer Janice Louise Miller 
- Boston Fashion Week 2010 Featuring JET 42-71
- Boston Herald - Style Calendar 
- The Boston Globe: Oh, those show-offs
All ticket sales are final!