For a variety of reasons, human hair wigs with breathable, airy caps are becoming more and more common among wig users. For those who prefer to wear a wig for extended periods of time, these wigs are made to be a lightweight and comfortable solution.  
In this blog, you will know what makes breathable, airy cap human hair wigs special, as well as the advantages of wearing them and how to take good care of them. Keep on reading!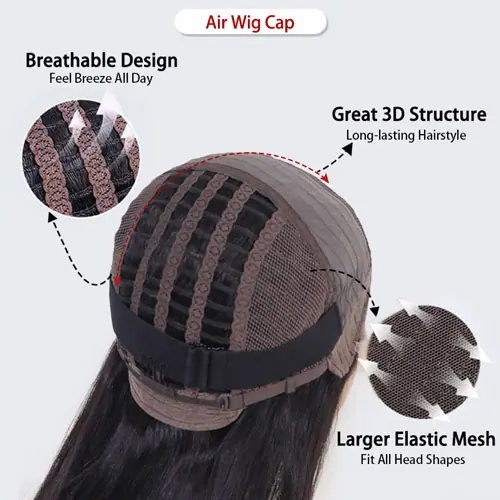 Features of human hair breathable airy cap wigs?
Breathable airy cap wigs made of human hair typically allow air to pass through the cap smoothly. Usually, a mesh material that is breathable and comfortable to wear is used to make this cap. The cap is made to keep your head from overheating or perspiring, which can be uncomfortable and irritate your skin.   
Because of the mesh cap's ability to breathe, air can pass through it and keep your scalp cool and pleasant. People who live in hot, humid regions or who must wear wigs for extended periods of time should pay special attention to this characteristic.   
Human hair wigs with breathable airy caps come in uncut or pre-cut lace alternatives. You are free to select the one you prefer.  
What benefits of breathable airy cap wigs? 
1. Light and comfort  
Human hair wigs with breathable, airy caps include lightweight mesh caps that enable air to pass through, making the wig more pleasant to wear for long periods of time. Additionally, the hat is made to fit tightly on your head, which helps stop the wig from sliding or shifting position.   
2. A natural look   
Synthetic wigs do not appear as natural as human hair wigs do, and the natural appearance is helped by the breathable cap. Because of synthetic hair's artificial hair sheen, wearing a wig might make it challenging to look natural. The real human hair used to create human hair wigs, on the other hand, is what gives them their natural movement and flow.
3. Long lifespan 
Synthetic wigs are less resilient than human hair wigs, and the ventilated cap contributes to the wig's longer lifespan. Human hair wigs are more durable and can last for years with proper care and maintenance while synthetic wigs can become easily damaged and frizzy over time.    
4. Flexibility   
Numerous styling options are available for human hair wigs, and the breathable cap makes it simpler to do so without the wig getting too hot or uncomfortable. To get the desired look, you can curl, straighten, and even color your real hair wig.
5. For hot weather  
This wig is very suitable for hot weather because good breathability will make you feel cool and comfortable. When you sweat, your sweat will evaporate faster, which will bring you a better wearing experience.
6. Help your natural hair grow  
The better the permeability of the hair cap, the better your natural hair can breathe, which is beneficial to the growth of natural hair. If the hair cap has poor air permeability, bacteria are easy to breed in the hair and scalp.
Tips to maintain breathable airy cap wigs 
1. Regular wig washing  
You should wash the wig regularly, depending on how frequently you wear it. To keep the hair from getting dry and brittle, use a gentle wash and warm water. Make sure to properly rinse the wig to get rid of any leftover shampoo.   
2. Take care of the wig   
Apply a conditioner to the wig after washing, then leave it on for a while before rinsing. The hair will remain silky and manageable as a result.   
3. Make the wig air dry 
Avoid using a hair dryer on the wig since it could harm the hair. Let the wig air dry on a wig stand instead. To gently remove any extra water, wipe the wig with a towel.
4. Heat protection 
Use a heat protectant spray and keep the temperature moderate when styling the wig using heat tools. This will lessen the risk of dryness and damage to the hair.
5. Wear a silky nightcap 
You can fall asleep with a soft night cap to reduce the friction, which may cause your hair dryness and dullness, even hair loss.
Things to consider for buying breathable air cap wigs? 
1. Cap size   
Make sure the size of the cap you select is correct for your head. When wearing a wig, it might be painful if it is too tight or too loose. To assist you in choosing the proper size for your head, most wig makers include a size chart.   
2. Lace design   
You can select wear-go pre-cut lace wigs for quicker installation and simpler maintenance, or you can select uncut lace breathable airy cap wigs for a wider range of hairstyles.
3. Hair color and length   
Pick a length and color that go with your tastes and style. You have many options for length and color because human hair wigs can be cut and styled just like real hair. Make sure the color you pick goes well with the tone of your skin.   
4. Good quality  
A wig with a solid reputation for durability and use of high-quality materials is what you should seek out. A high-quality wig will last for many years and provide you with a comfortable, natural look.
5. Budget 
You can choose your own breathable air cap wigs according to your own budget. The longer the wig hair, the more expensive it is. The higher the density of wigs, the higher the price.
Popular breathable air cap human hair wigs in Recool Hair?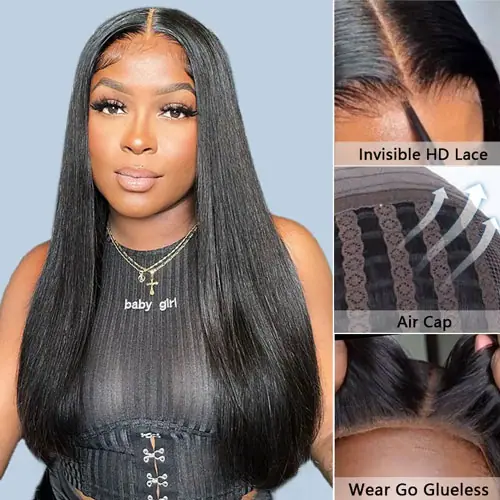 The lace area is 6×5/13×4. You can choose pre-cut or uncut lace as you like. For the pre-cut lace, you can save more time and efforts to work with your lace when you install the wigs. You can wear it and go within 1minutes when you are skilled. Please do not wait! Just have a try on it for this summer. You will feel very comfortable and breathable feelings by these wigs.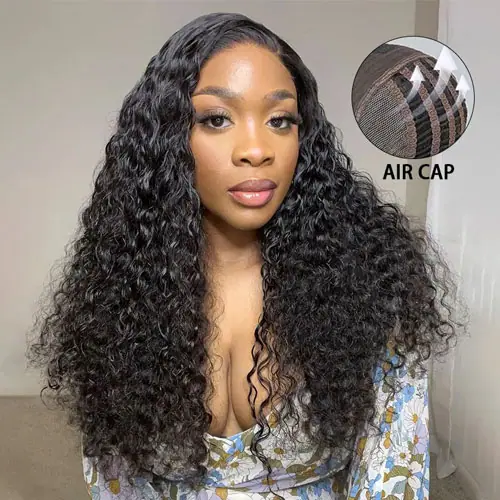 It is a pre-plucked human hair wig with breathable airy cap. The cap is very soft and breathable as its name shows. The wigs suit you very well for this Summer. And the lace is HD lace which is thin and transparent. The water wave hairstyle will give you an eye-catching and memorable Summer.
Final thoughts 
Human hair wigs with breathable airy caps are a fantastic option for anyone seeking a cozy, realistic-looking wig. These wigs offer a diverse and fashionable hair alternative and can endure for years with the right care and upkeep.  
Breathable airy cap human hair wigs are a terrific option if you want to change up your appearance for a particular occasion or if you require a wig for everyday wear. You will get 10A such wigs at Recool Hair at affordable prices.