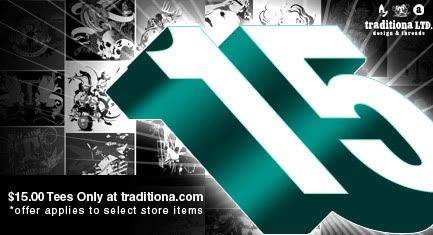 Clearing the shelves with reduced prices!
We have reduced the price of select shirts to $15! Please check them out and be sure to take advantage of the prices while supplies last!
----------------------------------------------------------------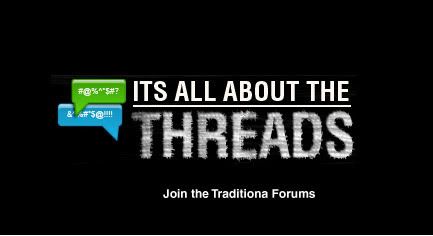 Join the forum and talk it up!
The Traditiona forums have been seeing a lot of action since we put them up about a month ago. Get in the fray! We've got all sorts of discussions, relating from news and politics to entertainment, art & design, and much more. There's something for everyone, and if you don't see something you want, start a new topic or drop a suggestion!
Please join, we want users from all walks of life to have a place to voice their opinions. Anything goes so long as it is respectful, tasteful, and not deliberately offensive, so come and sound off or just shoot the breeze!
----------------------------------------------------------------

Help Spread the Word!
We now have an account with
facebook
and have started a group on
Last.fm
. We love music and want to listen to it with you, please share some new bands, thoughts, and ideas with us.
More to Come!
We have new prints coming in soon! Please take advantage of clearance items and the promotions while they are active and supplies last. We promise there is a ton in the works we are very excited to share it all with you in the near future.