Swim season is incomplete without a perfect swimsuit. Whether it's a beach holiday with the family or a fun pool party at the clubhouse, every woman needs to have that one swimsuit which not only looks great but feels comfortable as well. When you reach a particular age swimming outfit are just another problem rather than a fun topic. Bikinis and swimsuits is a touchy subject for mature women but why is it so? Be that as it may, it must be changed. After all, age is just a number. Everyone deserves to look and feel sexy, so it doesn't matter how old you are as long as you know you have put on the right outfit.
There are many comfortable and flattering swimsuits out there which will make you step on the beach in style but finding the right one for yourself is hard. Therefore, we are here to help you choose the best swimsuit this summer if you are above 40.
Importance of swimsuit for older ladies and how to find the perfect one
Ladies in their 40s or above perhaps remember the lyrics from a Brian Hyland track that mentioned a challenge we face even today, i.e., "Itsy, bitsy, teeny weenie yellow polka dot bikini." 90% of this issue is in our very own heads. Older women often fear to wear a bikini out in the open because they feel uncomfortable and insecure about their body. As we get older, we become sensitive about our body image and dread wearing anything which is slightly too revealing.  Despite everything, we cherish going to the beach with our loved ones or having an all adult's hot tub party so why not just have a good time and not stress about how we look? We are a lot harder on ourselves than anyone else. We need to change our mindset and learn to love our bodies no matter what. Now let's talk about the remaining 10% of the problem that is how to find a swimsuit that looks good on mature women.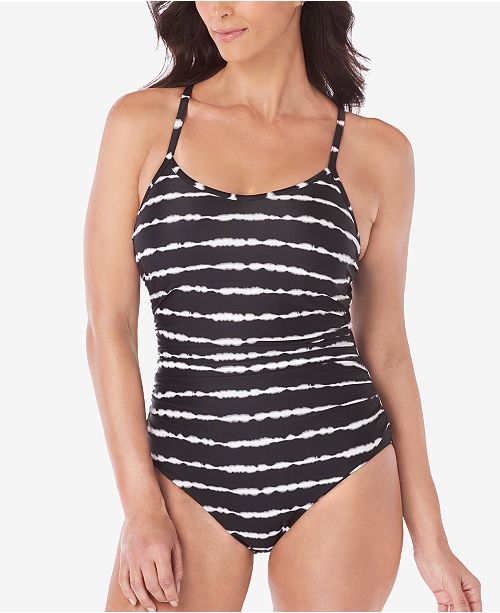 Women above 40 need a swimsuit that is comfy yet trendy and will cover up all that unwanted flab and a little undesirable weight here and there? Luckily, thanks to body positivity movement of social media influencers and celebrities like Amy Schumer, brands have now begun to consider how to make swimwear which solves all our issues. It is a lot easier to find a swimsuit for ladies more than 40 today than it has ever been before. Before we dig into our top outfits for this swim season, let's first discuss some effective ways how women who are above 40 can pick a swimsuit which fits perfectly and looks great.
Look for the perfect swimsuit according to your shape and size
There are many ways you can find your ideal size. Many online websites and stores offer a Size Guide or Size chart which you can use to determine the right size. All you have to do is enter your measurements and browse different designs according to the shape of your body. If you have a large belly, look for something that will tuck in those folds. Similarly, if you have flabby arms or thighs then find a swimsuit that covers up those portions and gives them a slimming effect.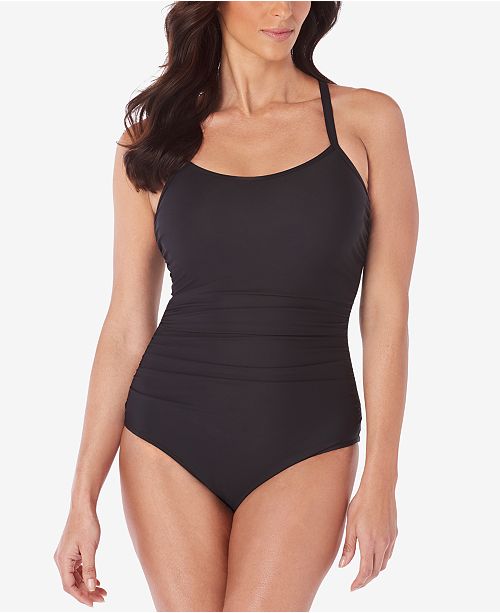 Dare to go for bold and the unconventional
Don't be afraid to try something different and edgy. Wearing a daring swimsuit with unique cuts and patterns will draw the eyes from your body to the swimsuit. It camouflages the imperfections of your body. Go for bold patterns and loud colors to stand out from the crowd.
Find what flatters your body
Whichever style of swimming outfit you select make sure it not only fits perfectly, but the overall style should complement your figure. Pair it up with some accessories like a nice pair of sunglasses or a statement necklace. The color, cuts, and patterns must enhance your features.
Explore different options
Swimsuits have gone beyond one piece and bikinis. You can go for jeans shorts or crop tops with low cut backs or a see-through sheer white swim dress. There is no hard and fast rule when it comes to beach outfits. You can wear bikinis, tankinis, crochet dresses, shorts, crop tops, etc. You can likewise go for printed cover-ups and kaftan style uppers if you are not planning to swim. A swim dress is ideal for concealing bellies, thighs, and hips.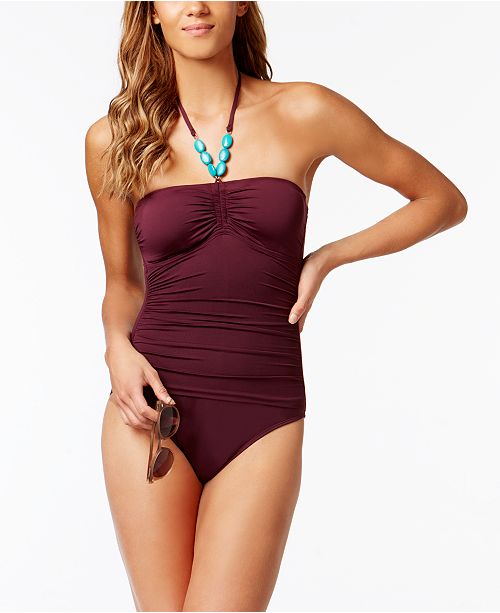 Enhance the parts of your body you love
There are two ways you can do this, either focus on the flaws of your body or on the elements that you like. When you buy a swimsuit to enhance the parts of your body that you appreciate then naturally the flaws will be covered up. Whereas, when you select a swimwear keeping in mind the areas you want to conceal naturally it will highlight the decent parts. 
Top swimsuits of the season for women over 40
Following are the best swimming outfits for older ladies to try on this summer.
Zaful - Strappy Crochet Coverup Dress in white
You can never turn out badly with white crochet regardless of whether you are strolling along the French Riviera or just searching for a humble way to connect with your romantic side this season. From beautiful knits to subtle white finishes, this crochet summer dress is the perfect option for mature women to relax and enjoy on the sandy beaches. 
Cup she - Happy Time Print One-Piece Swimsuit
This one piece swimsuit is made using quality fabrics, i.e., 80 percent chinlon and 20 percent spandex. It's twofold lined to ensure that your modesty stays safe and secure when you are all wet. The straight-cut back gives decent coverage in case you are uncomfortable with backless. The dark shades and sliming design is perfect for plus size women and the clenched waist will make the belly appear smaller. The implicit underwired bra will both accentuate and support your bust. This one-piece has a vintage feel to it that spare it from being dull and boring. Its deep sweetheart neck area with the exotic floral prints make it modest yet trendy.
Beachbunny – Sun Kissed Crop-Top in Bourbon Rose
This beach bunny two-piece swimsuit is perfect for women with a heavy chest who would prefer not to overexpose it. This swimsuit will look great on those fit chicks above 40 who have a nice tones body like J-Lo and want to show it off. The light, soft pink color will give you a peachy undertone which will look best under the scorching summer sun.
Unique Vintage – Retro Bikini Swimsuit
The Unique vintage Retro Swimsuit is the best answer for mature ladies who lean towards the sensual look of a two-piece swimsuit yet need more coverage than that a regular bikini has to offer. The high-waisted bottoms will cover up your sagging skin, caesarian scars or stretch marks while the white off-shoulder top gives a fun youthful vibe.
Minkpink – Sunkissed layered playsuit
You will be the best-dressed angel on the shore this summer season in this printed swim dress! This Minkpink swim dress is perfect for older women. It's cool, comfortable and chic all at the same time.
Conclusion
For ladies above 40, picking a swimsuit should be enjoyable. It should be about feeling and looking your best. It should be for your own sake and not for anyone else. Regardless of how youthful one is, nearly everybody is insecure about their body. So who cares if you're 40 or above, appreciate that belly, love your incredible older body and focus on making beautiful memories with your loved ones in a hot new swimsuit this summer!