DAHLINGS -
The lists have been published far and wide, and the usual suspects have been called the best dressed, depending on which list one is checking.
Jennifer Lopez, Beyonce, Anne Hathway
...
Which is so
terribly
provoking. In your faithful correspondent's unhumble opinion, the best dressed were not the BIG stars. Far from it. They stayed with the tried and true, the looks that made them famous in the first place (except for
Renee Zellwegger
, about which more in a later entry).
JLo
was perhaps to be recommended for being the
only
star to wear plunging cleavage who actually had something to fill it with; other stars, such as
Rachel Evan Wood
, showed alarmingly bony chests. Not as bony as
Rachel Zoe's
, but short of a Sudanese supermodel, few women have chests as bony as
Rachel Zoe's
.
Speaking of
JLo
, her recreation of her famous
Versace
dress, only in gold by another designer, sparked some serious nastiness about back fat. I can only say to those critics: if this is your idea of back fat, then a Popsicle stick must look morbidly obese.
As delighted as I was to see
Dior
throughout the red carpet, here are my very personal choices for
Best Dressed At The Golden Globes
, in no particular order.
Susan Sarandon
This woman has remained true to her own style lo these many years, wearing a black satin Hugo Boss suit. She received criticism for showing so much cleavage; but to be honest, Patricia Field shows much more and everyone seems to love it. Perhaps Susan's is not wrinkled enough? My only cavil with this outfit is that a shorter necklace would not have slid around her decolletage in such a sloppy way.
Viola Davis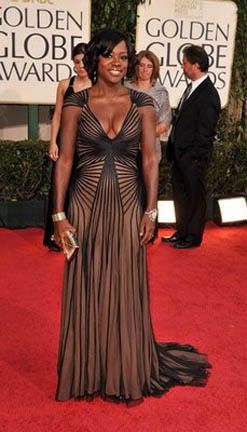 The actress shows off her beautiful figure in a dress that is cut to perfection! By Max Azaria, never have lines celebrated the curve so well. This was almost my single favorite gown of the evening, if it had not been for
Julia Ormond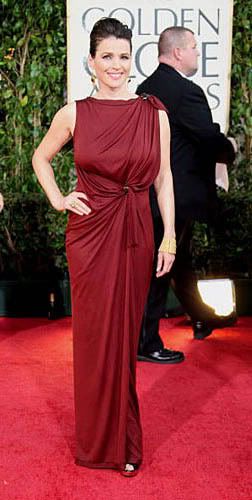 This dress may not be vintage, but it evokes the classic feeling of the 1930s and 1940s elegance so effortlessly. The cuff bracelet is the flawless finishing touch. I have not been able to find out who designed it, so please feel free to let me know.
Drew Barrymore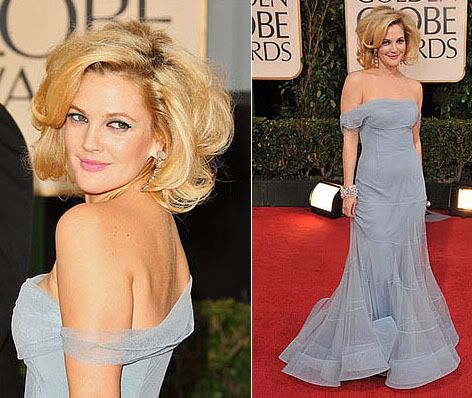 Our blonde beauty looks ready to party like it's 1959! The flowing lavender Galliano gown and fluffy blonde hair evoke Marilyn in the best possible way. Unlike many of the female stars, Drew actually looks like she is enjoying herself.
Keely Shaye Smith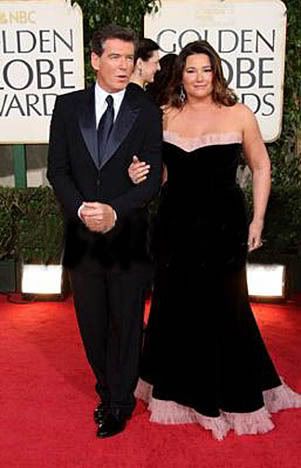 One realizes that this is, to say the least, a controversial choice, but this is a beautiful, full-figured fashionista wearing a strapless dress the way it is MEANT to be worn! However, although one can get the name of her handsome arm candy, husband
Pierce Brosnan
, there is not a scrap of information to be found on who made her beautiful black and pink-trimmed gown.
And here are my runners-up, some of whom are on the other Best-Dressed, some on the Worst-Dressed, but
qu'est-ce que je garde? Je garde de ne pas.
Salma Hayek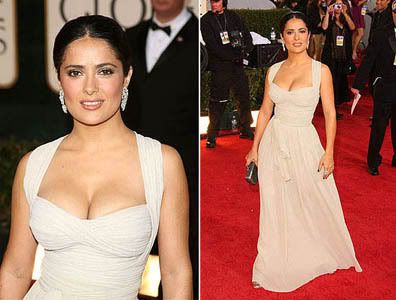 Darling Salma (who was so wonderful on big winner "30 Rock" last week) made many lists in this gorgeous Dior masterpiece.
Elizabeth Moss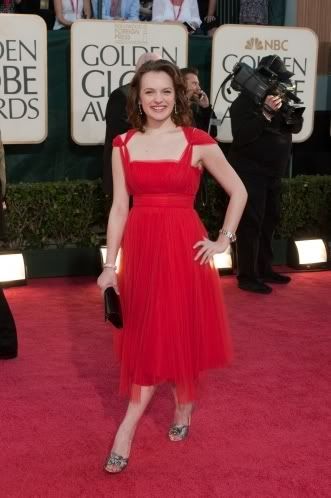 The "Mad Men" star often wears such dowdy clothes on the program, it was a delight to see her in lipstick red vintage! The dress has a wonderful lighthearted air, as does she.
Maggie Gyllenhall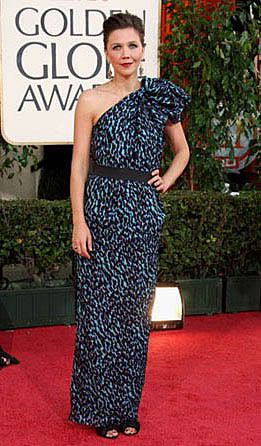 In a sea of safe solid colors, Maggie stood out in a turquoise and black one-shouldered dress by Lanvin. She was criticized by many, but those were the same writers that praised the numbingly alike parade of white and flesh-colored dresses.
Blake Lively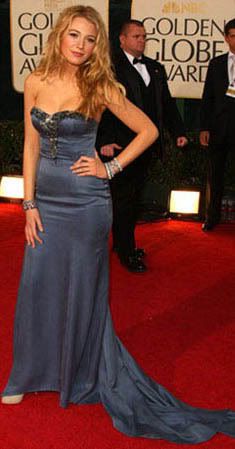 I have no idea who she is (someone popular with the younger generation), but I love her silk Nina Ricci gown. And she was one of the few other women to wear a strapless dress correctly, neither too tight nor too loose nor too low. Ladies, is it so VERY hard to get that right in this era of body tape and sophisticated foundation garments?
I shall devote a separate entry to the Worst Dressed, because looking at some of the photos makes my eyeballs bleed. Until we meet again,
Ciao,
Elisa & Bucky the Wonderdog