DAHLINGS -
I realize that some of my choices will go against the popular grain, but one must be true to oneself, n'cest pas? Some are based not only on the gowns, but the overall presentation as well, which may also be against the popular grain.
First, however, the overwhelming favorite for
Worst Dressed At the Golden Globes:
Renee Zellwegger.


She went to her favorite designer,
Carolina Herrera.

What on EARTH were they thinking? This looks like an unfinished project on
Project Runway!
There's the shapeless muslin underbodice (in close-up you can see the stitching that holds it to the skirt); the visible back zipper at the waist; the badly bungled sheer sleeves; the skirt would be all right if the top was not so
ill-conceived
. The underbodice might even have worked if it had been in a solid color, say indigo blue. One does not like to use the word
disaster
, because
Hurricane Katrina
was a disaster. This is merely a
very
ugly dress. As for
Renee's
hair, well, it might have worked with something a little less...awful.
Marisa Tomei
will
not
be on this list because at least she was wearing something comfortable and true to herself amidst a bobbing pond of safety.
Anne Hathaway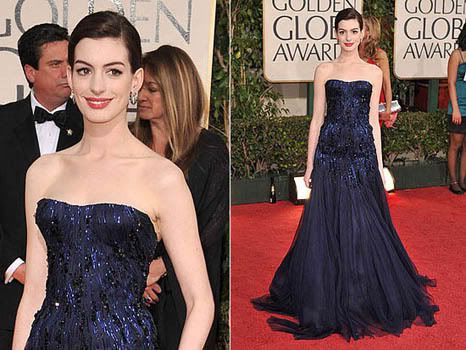 This brilliant young actress made
many
Best Dressed lists in this navy
Armani
gown, but her gaunt appearance is so off-putting, and the dress seems too heavy and to only highlight the fact that she is
badly
in need of some decent meals. One does hope she is not going the way of
Audrey Hepburn
, who in her later years wore dresses like this and showed the sharpest collarbones this side of a
Wusthof
chef's knife.
Olivia Wilde
and
Eva Longoria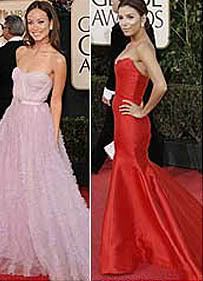 Again, two
frighteningly
razor-thin actresses who made many of the Best Dressed Lists. The
House
co-star
Wilde
opts to go for a fluffy skirt in a dress by
Reem Acra
, which makes her look like one of those dolls they used to put over toilet paper rolls. (However, on the show she does play a character who might be dieing, so perhaps the producers have put her on reduced rations.
Jennifer Morrison
, her co-star, looked smashing and quite healthy.)
Eva Longoria
also chose
Reem Acra
for the red carpet, in a mermaid style. One critic said
Eva's
gown looked as though it had as many
Botox
treatments as the actress herself; I could not have put it better. Ladies, cover up those stick-like arms!
So that is my list. It might seem a tad short, but so many stars opted for
dull
over anything else. White, off-white, cream, gray, flesh, champagne...one could get narcolepsy just browsing the photos.
Beyonce
looked very nice, even if her body tape showed in many photographs, and
Christina Hendrix
(
Mad Men
) showed off her smashing figure in the lovely black number: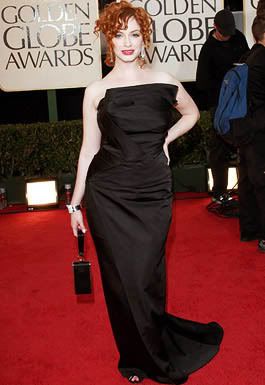 I have a slight quibble with how rumpled the neckline looks, but one must keep an open mind.
Ciao,
Elisa & Bucky the Wonderdog