If you were given the chance to do one thing for the rest of your life every single day, what would it be?

If your answer is drawing and fashion design, welcome to Fashion ARTventures !
The blog where you can finally get the complete guidance for your dream career in the fashion industry. Share your thoughts on style, fashion and art with those who have the same interests as you do.
THE SECRET OF FASHION ARTVENTURES?

My name is Michaela Koleva. I'm a licensed architect and fashion addicted artist. As a self-taught artist I created this blog to help people aspiring to be a fashion designer, fashion illustrator or creative entrepreneur.
The idea behind the name came up with the first feedback from people who watched my portfolio on YouTube. They wanted to know how I've learned to draw fashion illustrations as realistically and how can they achieve the same level of skill.
If it doesn'tchallenge you, it doesn't change you. - Fred DeVito
There you go, the secret is challenge yourself and be adventurous with every single drawing! You can grow your skills and knowledge step by step to a professional. Challenges are what change us and help us improve.
The simple formula I follow:
FASHION ART + ADVENTURES = FASHIONARTVENTURES

Many beginners can benefit from my personal techniques,because I'm a self- taught artist and fashion illustrator. So I started making tutorials on YouTube and showing people how they can improve their drawing skills by following few simple steps.
If you're aspiring a career in fashion but you're a complete newbie and on a low budget, you're in the right place.
There's no getting around the fact that you need a portfolio to apply to a fashion school or to find clients as a successful freelance designer. And if you're just getting started, you don't have thousands of dollars sitting around to pay someone to teach them all techniques of a good presentation.
No drawing skills required!
You can prepare a beautiful and professional fashion design portfolio without having excellent drawing skills, as long as you watch my video tutorials, follow my techniques, and ask questions in my Facebook group.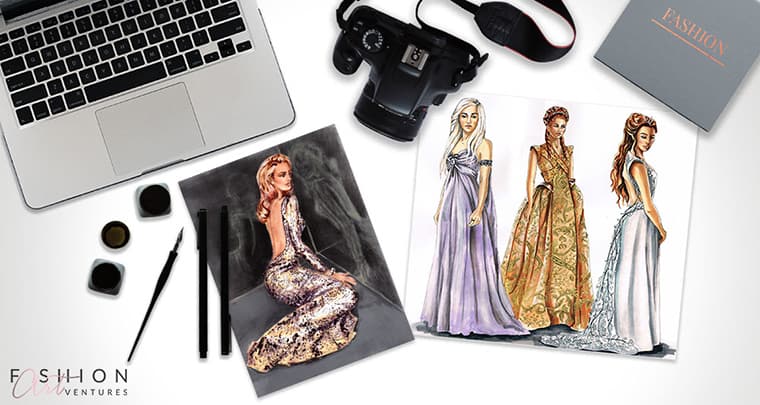 10 THINGS THIS BLOG IS ABOUT
 Find inpirations, if you're stuck or just search for fresh ideas
Learn the complete process of designing a fashion collection
Discover useful things about fabrics and how to render them in your fashion illustrations
Become a pro at figure sketching and developing different fashion poses
Find out all about Fashion history
Prepare your portfolio for your business or your college
Study the fashion industry and its possibilities
Know all about art supplies and rendering techniques
Learn about trend prediction and style
Draw flats and all about the technical side of fashion design