Bigg Boss 13 fame Rashami Desai is enjoying the festive fervour by channeling her inner Indian beauty. The actress' Instagram account is a treat to her fans and her ethnic looks are breathtakingly beautiful. From the ravishing Rajputi poshak to channeling her inner divinity in a South Indian saree, Rashami Desai is all about the trending style.
The gorgeous actress looks stunning in this Rajputi poshak here. Decked in an orange attire from head to toe, and traditional jewelleries, one might surely skip a beat on seeing this picture.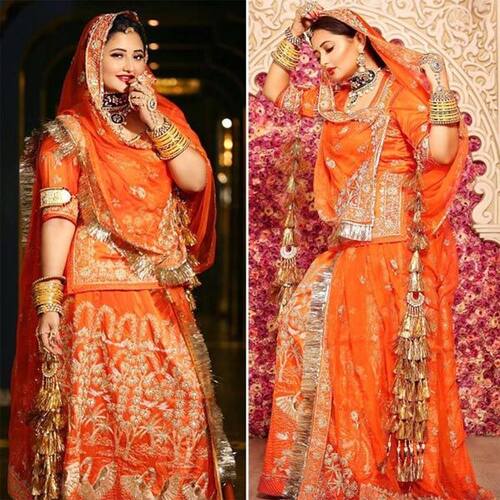 Rashami Desai looks enigmatic in this Bengali look. Clad in a dark red saree with red bangles, statement finger ring, earrings, nose ring, the sharp eye makeup, and lipstick, make her look ravishing.
Rashami looks royal in this silk saree. Her forehead jewellery, hair covered in 'gajra,' kamar bandh and heavy gold ornaments, make her look regal. She is celebrating the festival of Navratri by the colour of the day.