Net has made a return to the world of fashion, all across the world. In India, it has made a comeback in the form of suits and sarees. Ethereal net sarees are a huge craze in Bollywood! Designers are playing with the diaphanous fabric in their creations, and Bollywood beauties are seen at various events wearing dreamy couture sarees made fully or partially of net. Let's take a look at some of the new net saree designs flaunted by Bollywood actresses in recent events!   
Deepika Padukone in Stunning Red Net Saree
Deepika's OOTD, a red net saree has floral embroidery all across it, giving it a lacy look. The colour is absolutely gorgeous, and the floral crop top with a black base, in an incredible way, adds a contrast, to be seen through the transparent saree. What a perfect outfit to stun everyone present at any event!   
Priyanka in Silver-Striped Saree
Desi Girl Priyanka Chopra turned up at the 18th edition of Colors Screen Awards wearing a drape that can be described as one of the latest net sarees. The saree had alternative strips of silver, shimmery fabric and net. To jazz things up, she wore a maroon blouse with it to match it with the border of the saree.
Sonam Kapoor in a Pink Net Saree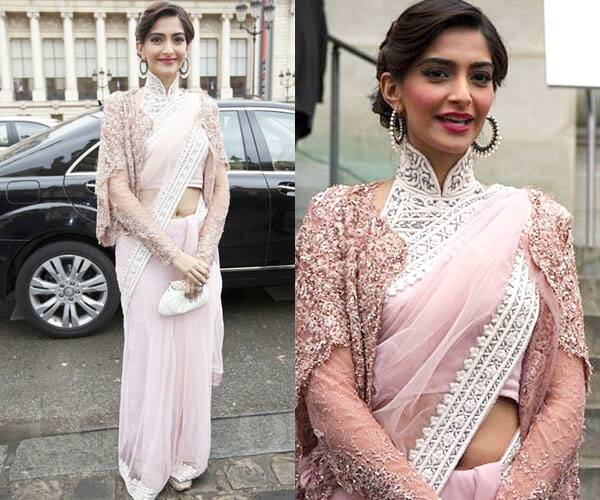 Count on Sonam Kapoor to do something that will blow the minds of fashionistas around the world! That's what she did when she wore a stunning net saree in baby pink, and paired it with a high-neck blouse. She added an Elle Saab shrug, and gave the blouse a trendy cape look at Paris Fashion Week!
Kareena Kapoor in a pure white saree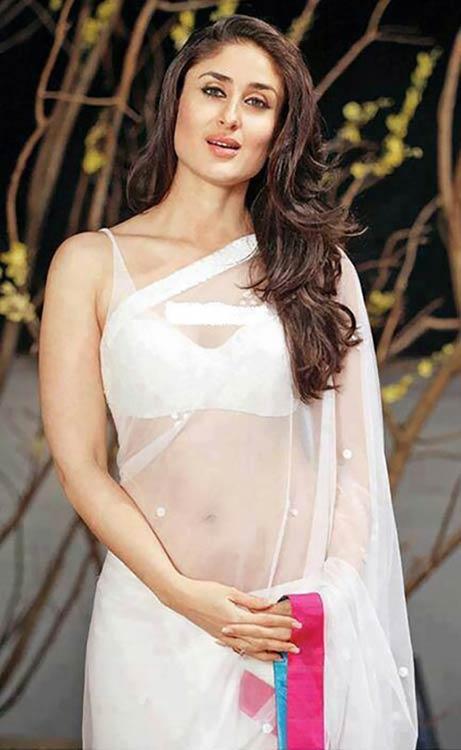 Kareen kapoor is the lady who has set new trends when it comes to women's body shapes. It's obvious that she dares to show off her curves and abs by wearing net sarees. One of her best looks was when she wore a soft net saree in white, with a pink border. The simple saree gave such an angelic look to her!
Anushka Sharma in a Net-and-Velvet Saree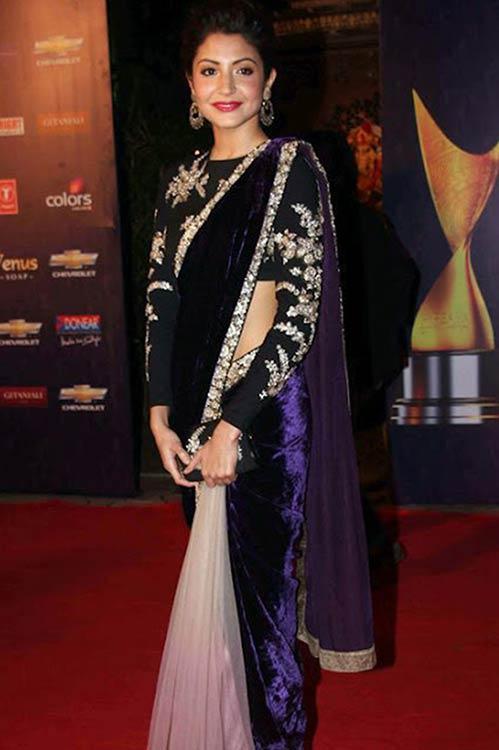 Anushka Sharma turned up at the Apsara Awards ceremony in a trendy half-and-half saree. Look at those white, beautiful pleats in net, with the velvet pallu in a striking indigo shade! The high neck blouse, with embellished embroideries to match the saree's border, added a regal touch to the look!
Sridevi in a Half-and-Half Net Saree
Another actress who totally rocked the latest trend of half-and-half saree in net and velvet is Sridevi. She looked exquisite in the combination of black and a very light minty green. The black velvet pallu is gorgeous, but the net embroidered pleated section, with the lightest tinge of green, is the real beauty.
Many other Bollywood actresses have showed off the latest net sarees collection created by the top couturiers in the industry. Whether it's a full net dress, or a half-and-half, net sarees are here to stay.
About The Author: Pen is mightier than the sword, they say, and Oendrila believes in it. She loves to write. It is through her words that she expresses her thoughts and opinions. She considers the social media platforms a powerful tool to hold constructive discussions, and raise awareness about various issues - and words are the only way to go about it. That's how she tries to survive in this big bad beautiful world.