 The nip in the air clearly suggests the arrival of the winter season, which means a complete wardrobe revamp for work. It's time to get out your leather jackets, formal coats, trendy men's sweaters and high ankle black boots and put aside your v-neck t-shirts, flip-flops and shorts. For men, winter is a chance to explore their fashionable side and experiment with their wardrobe. With the cold season comes a plethora of style options and fashion trends in both casual and office wear. Executives can adorn their best suits and be comfortable and fashionable at work. The use of darker colours during the winters cannot be understated; however it shouldn't mean giving up light colours. Layering with contrasting shades and solid and chequered patterns are surely the way to go throughout the season. Let us have a look at a few fashion essentials this winter. Do Not Put Away Those Denim
Corduroy trousers and formal pants are generally preferred over vintage denim jeans in this season. Whether you work at a call centre, a bank or in a school, the classic dark blue denims can never go out of style. Be sure to exclude any prints on your jeans and leave such trends to children. Opt for well fitted, neat and tidy, dark blue or black denim jeans and pair it with a simple solid men's sweater to get a professional yet playful look. Denim jeans may not be your preferred choice if you work at a corporate firm or an MNC. Consider wearing cotton pants and trousers to work; abstain from vivid colours that stand out, such as orange, red, yellow or purple. An acceptable alternative is to stick with traditional solid shades such as black, dark blue, brown, beige, khaki and even white. It is important that you do not wear skinny jeans or boot cut pants since they are completely untrendy. Instead, go for regular, well-fitted leg-wear and make sure to wear it above your hips, not any lower.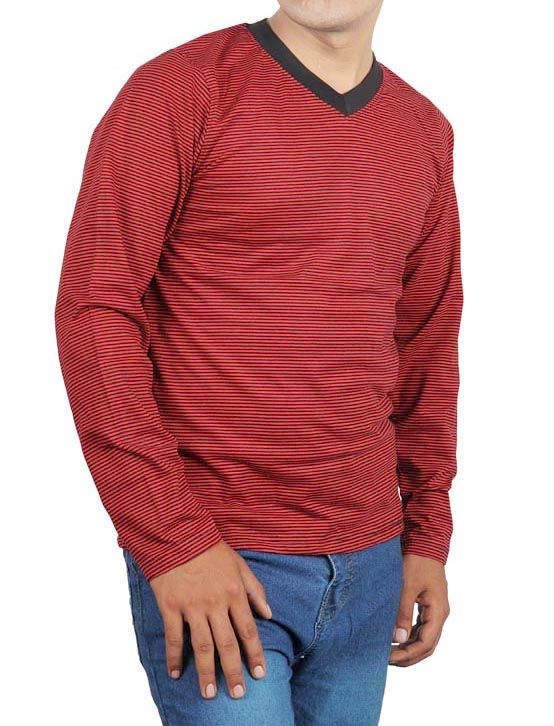 Do Not Put Away Round Neck T-Shirts
It is both healthy and fashionable to wear a t-shirt as your first layer and top it with a jacket or a shirt. Wearing t-shirts under shirts can help soak up sweat and extend the life of your expensive men's sweater or shirt. Do not leave the shirt unbuttoned. It's better to keep the shirt tucked inside your pants or trousers and never tuck in the sweater for a more professional appeal. Round neck or v-neck can even be worn under formal jackets and woollen cardigans. They are not too casual and are a great choice for everyday office goers to incorporate a stylish wardrobe. Remember; do not wear t-shirts as an outer garment for the simple reason that you may catch a cold.
Incorporate Mid Layers
The best middle layer clothing for men is sleeveless men's sweaters and waistcoats. In case you plan on removing your jacket or coat inside the office, wearing a sleeveless men's sweater or a formal waistcoat over your shirt can make you stand out. This can be done if your shirt is of inferior quality or you forgot to iron it the night before.
Spend Time Accessorising

Apart from sunglasses and your watch, the winter brings a number of wardrobe accessories including caps, mufflers, stoles, ties and gloves. On severely cold days, do not hesitate to accessorise and experiment since such accessories can keep you warm and up your stylish quotient. Practice the various ways to sport a muffler and get a pair of woollen gloves to add that extra flare to your office outfit.