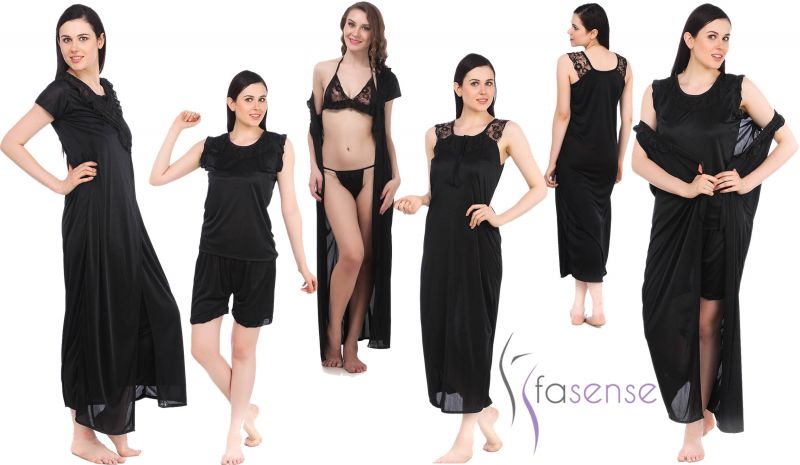 Fashion experts say that you look your best when you're the most comfortable. What could be more comfortable than sleepwear? Fashion is not limited to wearing that short purple dress to a rocking party. Being fashionable is an attitude and that is a way of life. So, why should it not extend to ladies nightwear?

The mood in which you go to sleep impacts the way you feel the next day. If you feel good and comfort with your sleepwear, you will more likely wake up feeling more re-energized and enthusiastic about the new day. So, select your sleep clothes with care. Whether you wish to look cute, cool or sensual, there are several options that you can consider. 

Ladies Nightwear: Popular Ones This Season
For the all the fashion conscious women out there, here are the latest styles that are gaining popularity popular in the ladies nightwear section:

Nightgown: Probably the most conventional form of all ladies nightwear, nightgowns have not lost their charm. Running from ankle length to anywhere above the mid-thigh, these gowns are available in various designs and fabrics. Flannel, being a perfect companion for the chilly winter nights, is also thought of to be sensual. Silk and satin gowns are considered to be the romantic, which might even include lace or mesh for added style.

Chemise: A body-skimming garment, chemise, works well both as a ladies nightwear and a substitute to a brassiere or slip. These are usually silk lingerie products, though these are available in other fabrics as well. This piece of clothing is sensuous as well as highly comfortable, making it a popular choice among the ladies.

Pyjamas: According to the Wall Street Journal, teenagers love wearing their pyjamas all day long, even in public! The sheer comfort that you feel in these loose pair of bottom wear has made them so popular. The category of ladies nightwear features feminized forms of pyjamas. Ladies pyjamas are generally cute and flirtatious rather being outright sensuous. These give woman a comfortable and chic alternative for relaxing at home on days off.

Boy Shorts: Replacing the traditional underclothes, boy shorts give a cute and comfortable alternative to the girls. Paired up with a tank top or a soft camisole top, many women love to sleep in these boy shorts. These often feature cute styles with fun patterns or slogans. This is a great option for sporty women who might not feel that comfortable in a nightgown or silk pyjama set. Boy shorts are a hot favorite in the ladies nightwear section this season.

Negligee: A short, sleek nightgown often called a negligee or baby doll is what has been made hugely popular by the leading Bollywood ladies who have worn them on the big screen. These are believed to have originated in France and were first made for utilitarian purposes. Having evolved with time, these are now a highly sensual piece of lingerie.

Night Shirts: Longer than the usual shirts, nightshirts are quite popular this season. They can be made of hosiery, sheer or cotton. Comfort is the major aspect associated with this ladies nightwear. Originally designed for men, these nightshirts have found a prominent place in the wardrobe of a large number of women.

Stay abreast with the latest fashion trends and choose from any of the styles of ladies nightwear. These not only ensure that you stay up-to-date in terms of fashion trends but also take care of your comfort. A perfect choice for those playtime hours with your partner, ladies nightwear helps you look your best. As women become more stylish and at the same time practical, the demand for ladies nightwear that satisfies all criteria is being fulfilled by a lot of brands available online.