DAHLINGS -
So,
Michelle Obama
is wearing a glorious ivory one shoulder gown by
Jason Wu
. (Jason
Who
? No matter, the entire world will know his name tomorrow.)
Photo by Damon Winter/The New York Times
The only problem with it is that she cannot dance in it, because the new
President
keeps stepping on the train. But it is so much more beautiful than some of the horrors other designers came up with. For instance, this strange concoction by
Betsey Johnson
: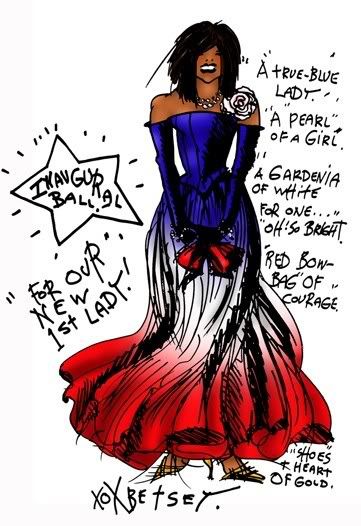 The gown is crafted of ivory silk chiffon, embroidered with silver thread and
Swarovski
crystal rhinestones, with organza accents. The shoulder treatment is rather like a sash, exquisitely feminine and regal. One's only criticism is that it is a tad fussy, but why not on a night like this?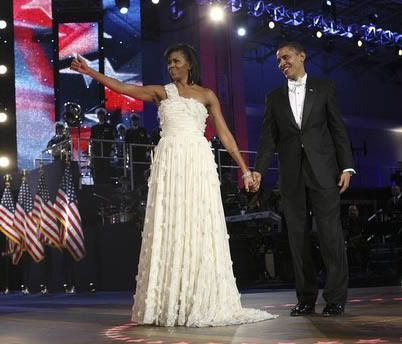 Our
new President
Barack Obama
looks
so
handsome in his white tie. It suits him
ever
so much better than those stuffy business suits! Who would have thought we had elected
Fred Astaire
to the
White House
, sartorially speaking? Too bad he didn't go the whole route and wear tails, but during this terrible recession, it would have sent the wrong message.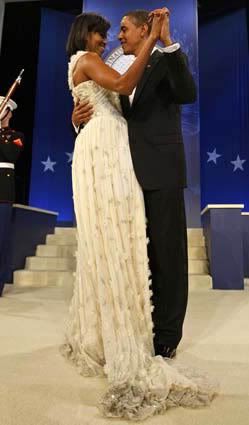 FYI, I'm in a gown by my favorite designer,
Oscar de la Renta
, in blue and gold silk dupioni, and I am carrying
Bucky
in a custom-designed matching carrier (lined in absorbent and waterproof material inside. Your faithful correspondent has been around
this
particular block many times before). My toes are still cold from this morning...the
Secret Service
relieved me of
Dick Cheney's
space heater.
Must
dash--I'm here at the
Creative Coalition Ball at the Harmon Cultural Center
and my nose is most definitely shiny! Actually,
Anne Hathaway
is bearing down on me with a look in her eye that tells me she read my blogs about the
Golden Globes
.
Ciao,
Elisa & Bucky the Wonderdog