Sure, stripes, florals and polka dots are perennial prints that are always in style. But, every season, a new "prints charming" arrives — surprising us and adorning everything from our apparel to our accessories. A few seasons ago, birds had us totally looking fly. Last summer, our wardrobe went bananas with the potassium-packed fruit adding a playful flair to our wardrobes.
This season? There's plenty o' prints to give a playful or artistic charge to our outfits.
Here are four prints that are, well, leaving their print on this summer's fashion. (We're totally expecting these to segue into the fall fashion season, too)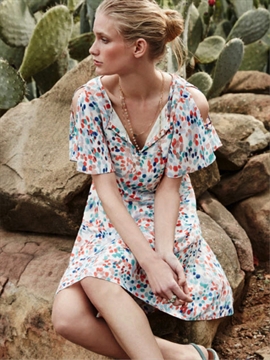 Source: bridal gowns
Tropical and topical
What would summer be without a lil' tropical, Hawaiian influence on our wardrobe? Forget the kitschy prints reminiscent of tourists. This season is all about simple palm prints with clean esthetic lines. We're seeing the rendition in black-and-white or earthy green tones on white backgrounds, adorning dresses and rompers. It's a chic interpretation of the Hawaiian prints. Combine one of the season's favoured lengths (midi dresses!) with the palm print trend on this sleeveless dress. Because the print is big, try wearing it with simple, earthy jewelry — like a small wooden beaded bracelet.
Water colourful
Fashion is an art form, especially when you're rocking a pretty art-inspired frock. We can't get enough of the watercolour trend this summer, combining pretty, soft pastels that blur together beautifully. Let your shoulders play peek-a-boo in this swing silhouette dress that blends shades of blues, coral and neutrals.
Mix it up
Pattern mixing is one of our favourite style tricks. The general rules: Stay within the same colour scheme and let one print dominate in scale. An easy way to master the trend: Let one already pattern-mixed piece turn a jeans-and-T-shirt look into a stylish outfit. Easy, peasy! For those cooler summer nights, layer on a scarf, like this one that features bold, boho prints and ladder lace detailing in shades of blue.
Fruity tootie
Get an extra serving of fruit this summer with the pineapple trend. This sweet, tropical fruit is showing up on everything from Kate Spade wallets to designer socks. How did it become so popular? Who knows. But it's got so much dimension with its funky, mohawk-like leaves, that it's totally a fashion-forward fruit in our book. This fun T-shirt is made with a linen-blend.
Also see:  vintage wedding gowns