DAHLINGS -

I have an array of vintage costume and fine jewelry on my sites, and it behooves me to share some of my riches with you! Nothing makes me happier than diamond earrings, unless it's a pair of vintage Coro rhinestone danglers that practically hit my shoulders! Who gives a fig if they're faux as long as they are fabulous? Not I!

Over on (ugh) Ebay, this adorable Napier goldtone and faux pearl brooch:


Straight from the 1960s comes this on-trend chunky necklace, made of faux amber and black beads:
For those of you who require the real thing, here is a large 14k gold Victorian ring with a cameo in a Navette setting--truly spectacular!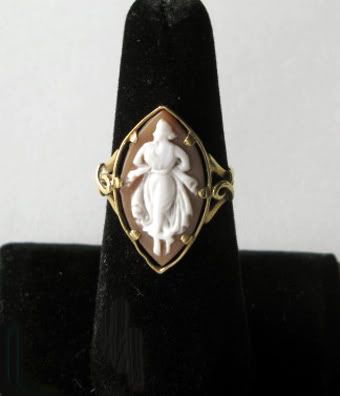 And another cameo, this one a shell cameo brooch set in 800 silver, with a gold vermeil wash, that can also be used as a pendant, also from the turn of the century and probably Italian:



You can find all of these at
http://stores.ebay.com/Elisas-Bodacious-House-of-Style.com


Over at the Mad Fashionista's Plus Size Boutique on www.Fashiondig.com, we have this beautiful Royal Doulton porcelain brooch and earring set:

So please do go shopping and buy yourself some pretties! Ciao,
Elisa & Bucky The Wonderdog