About Face
MANILA, Philippines - MAC senior makeup artist Val Garland says it best: "Everything is a signature this season!" As seen on the faces of the autumn-winter 2015 runways of New York, London, Milan and Paris which Garland and the rest of the MAC makeup team painted and sculpted, the trends forecasted backstage share no aesthetic strain: the energy and mix of eras, up to the texture and techniques employed, emphasize strength — all kinds of it. A full-on interpretation of each trend, even trying out an accent, as senior makeup artist John Stapleton says, boils down to guts. Do you have it or not?
Inspiration takes flight from the standouts in the streets: the chola with the tear tatt worn with black lips; the party animal doing the walk of shame with smudged eye shadow at 9 a.m.; the 15-year-old Eastern European fly-in model with immaculate complexion and the bushiest of untouched eyebrows; the socialite with a tan in the wintertime; or your spunky mom's brick red lippie from her Woodstock adventures.
Stapleton notes that selfie-bred makeup trends like contouring and strobing would have to be executed in a more abbreviated form: a bronzer would be used simply to bronze, and highlighters bring light instead of a sheen or glimmer, giving way to a more natural complexion for cooler climes.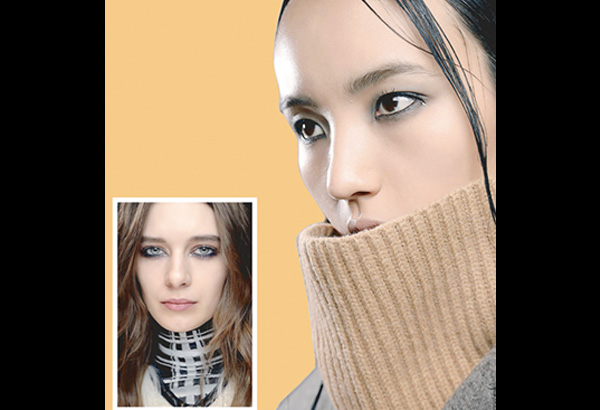 Strength of beauty
This no makeup-makeup look, at a glance, is actually a brows story of neither raw nor labored perfection. You know that glow you get from when you've just come from a weekend out at the slopes of Aspen? After applying coverage akin to second skin with MAC Studio Waterweight SPF30, mimic fresh skin with Dark Golden Mineralize Skin Finish Natural applied with a Dual Fiber Brush to diffuse the pigmentation. Dewy is out, according to Staples. "The finish is satiny, glow-y, not too matte," he describes, which he achieves with Studio Sculpt Defining Powder.
If you have the eyebrows for it like the girls in DSquared and J Saunders, apply brow gel upwards instead of in the direction of their growth with Clear Brow Set. If you haven't been so lucky genetically or went tweezer-happy 10 years ago, make it right by filling them in first before brushing them up.
Lifestyle Feature ( Article MRec ), pagematch: 1, sectionmatch:Emphasize the look of thickness by applying eye shadow from the eyelid up to brow. "Add hardness by using an eye shadow three shades darker than the skin tone under the brow bone," Staples advises, such as the Vintage Selection Pro Longwear Paint Pot which is in a very natural shade of pink.
Beautiful and damned
There's a refinement to this tough, rebellious look. Ebonized lips are lined precisely yet filled with a sheer finish at Giles, punk-edge eyes (drawn on with Feline Kohl Power Eye Pencil or Beg For It Into The Well Eye Shadow) and spiked brows (drawn feathered with Spiked Eye Brows) are gestural at Giamba, and the complexion, covered with White and Body Foundation is porcelain yet sheer and luminescent. As Luciana Peroni explains, "Illumination always makes even the hardest statement look beautiful."
For beginners, Staples recommends easing your way into the look with a very dark plum lip like Media Lipstick or a smoldering, smoky eye finished with high volume mascara like Extreme Dimension 3D Black Lash
For the brave, a black lip is the easiest to wear. As he would say to one of his long-time clients Kelly Osbourne, "If you have a big mouth and you end up putting your foot in it, it might as well be bold."
All crazy trends can be intimidating — and high maintenance. Making it glossy and sheer makes it more modern than goth, and it's less likely to budge. Staples recommends creating your own black gloss for the lips by blending and buffing Black Chromaline ("it's indelible," Staples assures) with a little bit of Clear Lipglass.
Don't forget to prime lips with Prep + Prime Lip, applying it on the edges, so it doesn't feather and bleed. Using a lip brush, line your top lip first, "and smudge. It gives the perfect imprint of the lips, and then trace it from edge to edge," Staples advises, a tip you can use for any color, really.
Red 70s
The timeless, statement-making appeal of a red lip is switched up by the change in the season's choice shade. Red 70s is bringing the brick red lip back that's more Woodstock than Hollywood, more cool girl, less pinup. "These rusty tones are less referenced, less obvious," says MAC director of artistry Lyne Desnoyers. The epitome of which is the Biba-worthy Chili lipstick, a terracotta seen in Acne Studio and MSGM.
Staples creates it by first lining with lip pencils in russet tones like Mahogany or Auburn, then applying lipstick with the fingers, feathering and pressing it in. "The fingers pulls off the color while taking out the stickiness (of the lipstick)," explains Staples. Finish it off with a slicking of Clear Lipglass in the center for a high vinyl finish.
On your lids, simply dab the mustard brown Uninterupted Pro Longwear Eyeshadow or the correctors Caramel and Terracotta Prep + Prime CC Colour Correcting SPF 30 for rich '70s suede tones.
Love worn
Perfection and sensuality are polar opposites; this morning-after look veers on the done and undone, which, when considering how we do makeup, is quite the challenge. As seen in Paul Smith, Staples' solution is creating this illusion: "Natural shadows can break up a perfect application of eye shadow for wearability," he explains. After correcting the skin with MAC Studio Conceal and Correct Palette, Prep + Prime Lip, and Mineralize Timecheck Lotion, "apply eyeliner (like Ebony Eye Pencil) blended and then broken up with a natural shadow (like the natural, mink-grey Tailor Grey Pro Longwear Paint Pot or Groundwork Pro Longwear Paint Pot) along the lash line."