People say that it's easy to dress as a man in the workplace – just put on some pants and a button-down, how hard can it be? Well, people are wrong, because for men who care about fashion, dressing well is so much more than just looking appropriate for the workplace. If you're a businessman who is ready to update his style with some new trends a revamped classics – these are for you.
Cross-body bags
It's 2019, so can we please stop assuming that the only way for a man to be professional and manly while carrying his stuff is to carry a briefcase? They are so old-fashioned, and not even in a good way. Cross-body bags are all people are wearing these days, and it's no wonder why – they are way more comfortable than carrying something heavy like a laptop or stacks of papers in one hand. You can stick to an old-fashioned look by going for leather, or simply briefcases with cross-body straps, but you'll be better off embracing the modern styles and going with something practical, water-proof, with lots of compartments and an all-around contemporary look.
Pinstripe suits
Are you feeling the '80s vibes yet? Pinstripes on suits were once used as recognition symbols of who worked for which bank, and their purpose was really to blend in with the rest of the crowd. Today, you will certainly give the opposite effect, as pinstripe suits will make you stand out in a sea of the plain navy. When picking out the pattern, keep in mind that the closer the stripes are, the leaner your body will look, while stripes that are further apart will make you look wider. As always, vertical stripes elongate the body, so shorter men can use this to their advantage to visually appear taller. Make sure you keep your accessories to a bare minimum and don't go crazy with the colors. Consult with your tailor to find the best possible look.
Shoes for all occasions
While there have been a lot of new breakthroughs in sportswear, with everything from neon, chunky sneakers to sock-sneakers, sometimes you just have to stay classic. That's the case with men's shoes in a professional environment. You want to go for a shoe that will look got in any situation, whether you're taking a leisurely stroll through the park or having a board meeting. Something like classic men's boots will look great with both a suit and with jeans, and you will be able to combine them with any look. Remember to take really good care of your shoes – wash them, shine them, put protective layers, because you can tell a lot about a man from the state of his shoes.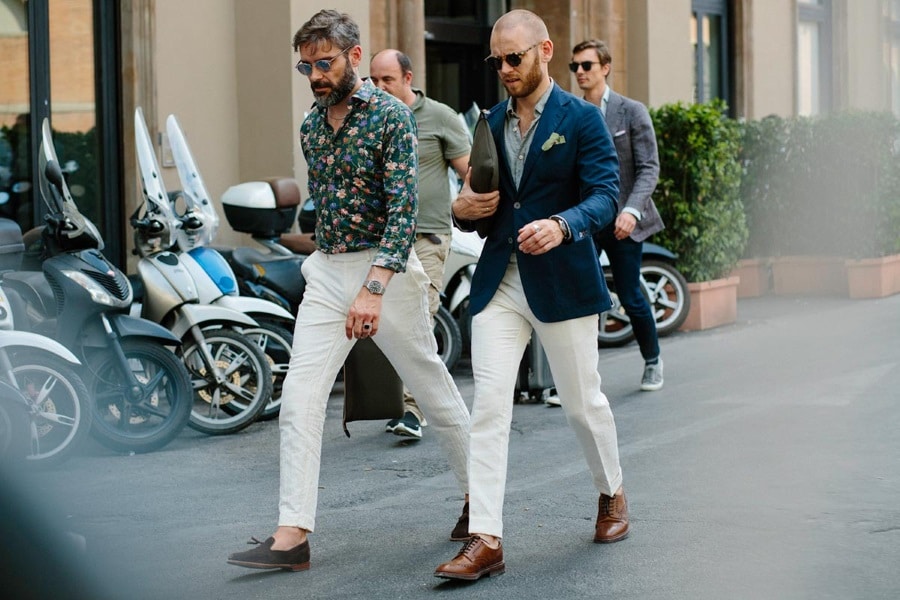 Fabrics you want to touch
A big trend this year has been tactile fabrics – ones that feel all kinds of different under your fingertips. Whether it's fur, leather or a chunky weaved pattern, clothing that doesn't flatten you out is all the rage. You want to wear something that gives you dimension and draws the eye, making it imagine how a material would feel to touch. You can achieve this through coats, sweaters and even scarves.
Military style
Utility clothing has been creeping around the corner, and like cross-body bags, it has a mission: to be practical. Military style clothing has plenty of pockets, it's comfortable and easy to move it, but it can also look amazingly professional. Pair a good utility coat or jacket with the regular outfit of jeans and a shirt, and you have a brand new look. You can also find utility bags and even stylish pants where the cut – even with the extra pockets – looks sleek and elegant.
In today's world, you have to stand out if you want to be noticed, and your clothing is a big part of that. You don't have to follow all the rules to be considered "well-dressed". You can pull something unique and daring, something that will make people look twice, and as long as you have everything well-coordinated and put together, you'll be taken plenty seriously. Furthermore, as many companies continue switching to a more casual environment, some of these changes can make you seem a lot more approachable, without needing the uptight suit look to be professional.