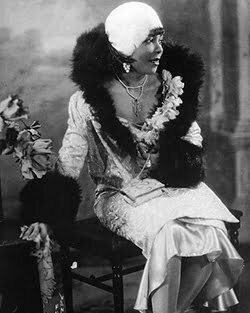 The roaring 20s represented a revolution in fashion and brought with it distinct styles and modes of expression that were uncommon before that time. The flapper revolution emphasized shorter hairdos, and women chose to dress them up with sparkly headpieces, hats, and headbands. From casual daytime dressing to formal evening gowns – there were specific headband styles that complemented every kind of outfit. While hats, particularly cloche hats, were favored during the day, fancy night-time looks were incomplete without Bandeau headbands.
Flapper movie stars increased the importance and desirability for headbands during this time. Women increasingly used their outfits as a mode of self-expression and wanted to convey an aura of desirability and luxury.
This was further heightened by the discovery of King Tut's tomb in 1924, as headdresses, tiaras, and head-wraps resembled the garb of Egyptian royalty. Women wanted to emulate the exotic expression of grace and prestige, and so pieces of clothing that resembled them became extremely popular.
In keeping with this aura of affluence, headbands were typically made of precious gems and stones, feathers, and pearls. They were designed to be the most eye-catching piece of clothing, and were dramatic and often sparkly, as they were modeled as an homage to royalty and popular movies of the time.
Women used headbands to elevate formal evening looks while adding a touch of personalization and extravagance. It was extremely rare for women to attend events without a headband, hat, or some other form of hair accessory.